If you have a question about an item, we're happy to assist you. Feel free to contact us at any time regarding questions about our products or if you need quantity pricing. Just email us at the address below — our policy is to respond within one business day or less — generally, it is much less.

---

Is Jerry Involved in My Order?
I'm involved in every order to a large degree; here's how:
I shoot all the photos (except a sunset taken by my daughter, Gorgeous Sky, that was too good to pass up).
I personally generate all the prints.
A close friend and partner is responsible for the professional framing, mounting, and matting. I inspect and examine the completed product (every one) to assure it is what I would place on my walls. If I'm not happy with it, I call him and the problem is fixed or the item replaced.
I use another close friend and partner to place the image on ceramic wall tiles and together we devise new imprinted products. I examine each wall tile mosaic before it gets shipped to you to assure it meets my standards. If it doesn't, I call my friend and we re-print one or more tiles, or even the entire set, if necessary.
If you're ever unhappy with one of my products, I WILL BE the one communicating with you, examining the one you return, and providing its replacement — I want you to be happy and satisfied with your purchase.
Because these are my images and my reputation on the line, I work hard to guarantee we ship ONLY quality products that hopefully elicit a "wow" when you unwrap it and that you can be proud to place on your walls or to give as a gift.
---
Product Quality
Obviously, you know that ceramic tiles last a long time. But even the prints are prepared to archival standards:
Long-life prints (> 80 years when protected from UV light)
Mounting boards are acid-free
Archival matting is acid free and buffered to maintain an alkaline pH
Only conservation glass (reduces UV by 97%) is used to further prolong print life
Frames are made of real woods and high quality veneers
Aluminum sealing tape is used to seal and further protect the print from any pollutants
The back is sealed with an acid-free paper to keep dust out and also contains a pollutant barrier.
By sealing the print from dust, moisture, and pollutants while also greatly reducing UV exposure, we increase the longevity of our prints still further. Essentially, you're buying beautiful heirlooms that I want to last you for generations. I hope the foregoing brings you comfort in making your buying decisions.

---

How Safe is Ordering Online?
Actually, it is very safe. Our Jerry Tardif Photography' Web site uses a secure server; that means that data encryption is used to assure that credit card related information (your name, address, credit card number, etc.) cannot be seen or extracted as it travels across the Internet. Almost all browsers today support the needed security features.
After you've selected one or more items and added them to your cart, you'll click on the Go To Checkout button. At that time, you're entering the secure portion of our Website so you can provide credit card information for purchase and shipment.
---

How Do I Order?
At this time, the only way to order from Jerry Tardif Photography is online. Our secure online ordering system protects your credit card and personal information using the latest in encryption technology. To make this easier for you, we've provided some simple Ordering Instructions.
---

What Are My Payment Options?
Credit Cards
We accept MasterCard, Visa, and Discover. You must include the entire credit card number, cardholder name, statement billing address and expiration date.
CVV Credit Card Codes — Why We Need Them
To protect your security and guard against fraud, we may need to verify your CVV2 code to complete your order. The CVV2 authentication code is required for automated verification of the credit card.
Since the introduction of these codes in 2000, this fraud prevention tool is being required more and more. Essentially, it acts as proof that the card is present in the buyer's hand and that the product is not being purchased using a credit card slip dug out of a dumpster. Without these codes, we would need to manually verify your address with your bank, which would delay order processing.
CVV2 Code Location on MasterCard, Visa, & Discover Cards
The CVV three-digit value is printed on the signature panel on the back of MasterCard, Visa, & Discover cards immediately following the credit card account number.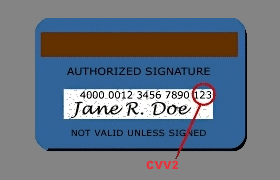 ---

Do You Charge Sales Tax?
By law, all orders shipped to Connecticut must be charged a 6% sales tax for all items purchased.
---

What Are My Shipping Options?
Orders are shipped via UPS using the delivery service you select on the order form (standard ground, 2nd Day Air, Next Day Air, etc.) when placing the order.
NOTE: We cannot currently ship to APO and FPO addresses. Orders sent to APO and FPO addresses must be shipped via U.S. Postal Service Parcel Post. And because delivery tracking is unavailable for Parcel Post, we are unable to guarantee delivery of an order when APO and FPO addresses are used. One option is to arrange for shipping to a friend or neighbor — pick one you trust.
US Shipping Only
We're sorry, at this time, we can only ship to US addresses. All other orders will be automatically rejected by our system. However, we hope to be able to process international orders in the future.
Any questions or comments are welcome. Send them to:

---

Quantity Discounts
We will provide quantity discount pricing for large orders. Because large orders are difficult to anticipate, the normal delivery time from order to reception of goods is somewhat longer. The actual time required will be based upon availability of materials and the time required to manufacture the items. Please feel free to inquire about quantity discount pricing by emailing us at this email address:

You must provide the following information in your inquiry:
Your name
The name of your organization
The full address of the organization
The item(s) for which you request quantity discount pricing
The quantity of the item(s)
The date by which you will require the item(s)
Your phone number in case we need to call you for more information
We will endeavor to respond to you as quickly as possible.
Jerry Tardif Photography